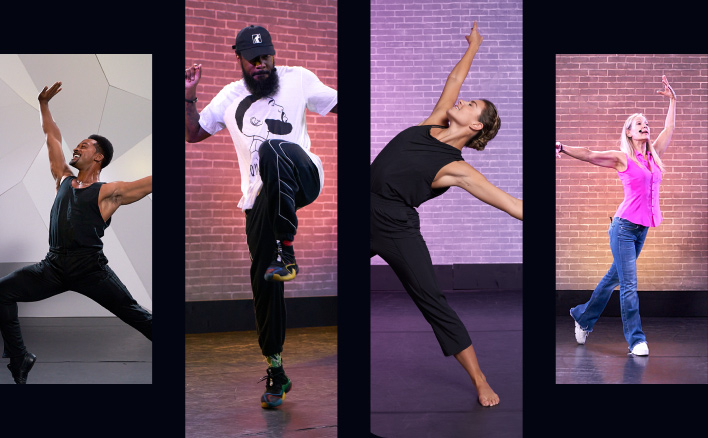 With a CLI Studios membership, you get access to on-demand dance classes in all major dance styles, taught by the world's best choreographers.
The only platform with every major style of dance
Become a more well-rounded dancer and explore several styles, or dive deep on mastering a single style. CLI has online dance classes in hip-hop, contemporary, jazz, lyrical, modern, ballet, jazz funk, tap, ballroom, musical theatre, and more!
Your style at your level
Whether you're new to dance or seeking a professional career in the industry, CLI Studios has classes for you. Master dance routines from top choreographers in every level from beginner to advanced, or perfect your technique with multi-part dance courses in every style.
From combination-based classes to foundational courses, we've got you covered. Plus, get an inside look at our instructors' choreographic process, career insights, and advice for aspiring dancers with our inspirational videos that will keep you motivated throughout the year.
‹
›
Hip-Hop
Contemporary
Ballet
Tap
Musical Theatre
Modern
Ballroom
Jazz Funk
Lyrical
Jazz
Learn at your own pace
Whatever dance style you're learning, you'll have 24/7 access to on-demand classes and courses that let you stop, slow down, rewind, replay, and mirror.
Whether you want to take a quick ten-minute class or immerse yourself in a full course, our on-demand options give you everything you need to take your dance training to the next level.
FAQ
If you have questions that we haven't answered here, send us an email at info@clistudios.com – we're here to help!
What does a CLI Studios membership include?
A CLI Studios subscription includes a library of 1000+ on-demand dance classes in beginner, intermediate, and advanced levels, taught by the world's best choreographers – with new classes added every week.
What age and experience level are ideal for CLI Studios?
CLI Studios is designed and recommended for students of any age: kids (ages 8+), teens, and adults. We offer beginner through advanced-level classes tailored specifically for youth ages 8-12, as well as teens and adults ages 13+.
Which dance styles do you cover?
Hip-Hop Classes, Contemporary Dance Classes, Ballet Lessons, Tap Dancing Classes, Modern Dance Lessons, Jazz Dance Classes, Jazz Funk Dance Classes, Dance for Musical Theater, Lyrical Dance Classes, Ballroom Dancing Lessons.
What does it cost?
Get started with a 7-day free trial. After your trial period, an annual membership is $199 and includes unlimited access to 1000+ live and on-demand classes, with new classes added every week.